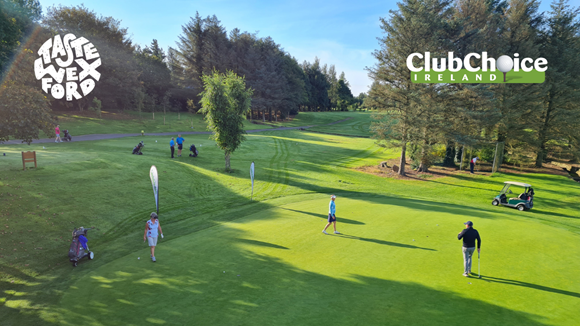 Club Choice Ireland and Taste Wexford have teamed up once again to bring two of County Wexford's strongest offerings together in one event. The Club Choice Taste of Wexford event has been bringing golf and food together for the past few years, and golfers once again returned to the greens and restaurants across Wexford this September following the cancellation of last year's event due to COVID-19.
Enjoy a Taste of Wexford – not just amazing food, but hospitality that's second to none and some of the most beautiful golf courses Ireland's Sunny South East has to offer.
This year's package included 'three great days of unforgettable food, fun & fairways' from the 19th – 23rd September 2021. Golfers enjoyed three nights bed and breakfast in the 4-star Clayton Whites Hotel in Wexford town and teed off at Rosslare Golf Links, Wexford Golf Club and Enniscorthy Golf Club during the event. The Sunny South East lived up to its name as golfers enjoyed ideal sunny conditions across all 3 days.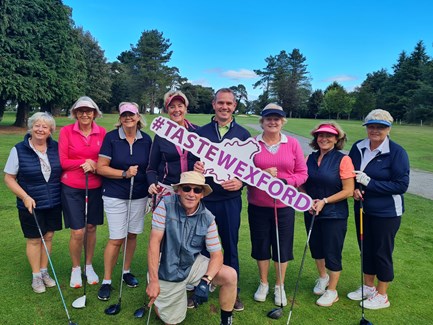 Golfers at the event with Club Choice Ireland's managing director Tiernan Byrne
Like all Taste Wexford events, the attendees dined around County Wexford in style with meals prepared by top chefs at Green Acres and Cistín Eile in Wexford town. Here, they were served an evening meal prepared with some of the freshest, award-winning produce from local producers which ties in with Taste Wexford's founding principles.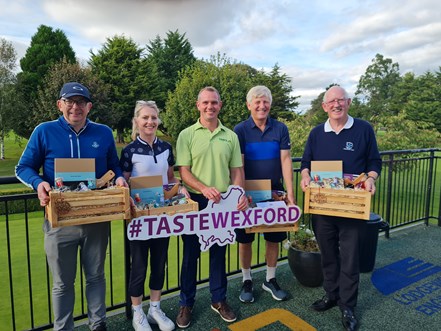 Club Choice Taste of Wexford 2021 winning team with Tiernan Byrne, managing director of Club Choice Ireland
Congratulations to this year's winning team – The Sharks – comprised of Alan Merriman, Aileen Merriman, Ken Brown and Bob Quilty. The top three teams took home Taste Wexford's bespoke boxes filled with award-winning, Wexford-made food and drink, as well as Club Choice Ireland golfing merchandise. The daily winners were also presented with prizes from Club Choice Ireland and Taste Wexford.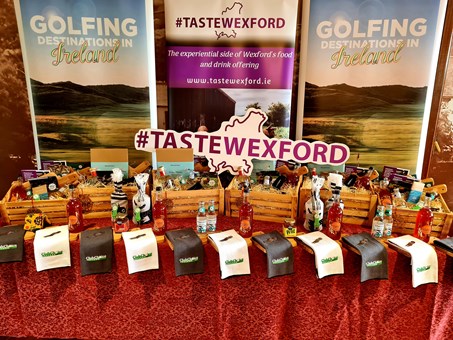 Club Choice Taste of Wexford 2021 prize table
Club Choice Ireland creates tailored golfing experiences for individuals and groups. They have built their reputation on bringing golfers from all over the world to the East & South East of Ireland, as this is the region in which they are the unrivalled experts.
Taste Wexford's purpose is to bring people – locals, visitors and tourists – on a journey of growing and making food through experiences, to build our community and develop Wexford as an immersive food destination.